Derby's biggest endurance event – the Available Car Derby 10 Mile – returns with a new course to the city for a 6th time at 10am on Sunday 20th November 2022.
The race will start and finish at the iconic Derby Arena on Pride Park with the outbound route going via part of Pride Park into Alvaston Park at City Point. Runners will then go along the Derwent footpath to the bottom of the A6 then along the pavement to the A5010 where it picks up the new part of the route and heads around the periphery of Elvaston Castle Country Park, before returning to Derby Arena along the river path for a grand finish.
The change in terrain of part of the route from grass to road, in addition to removing the 'U' turn, means that the course is now faster than ever, remains flat and provides even bigger potential for a personal best.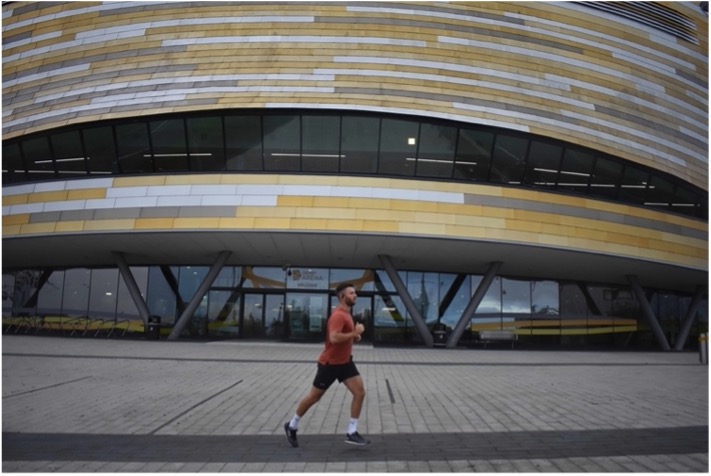 Venue host Derby Arena provides the impressive backdrop for the start and finish, and the Race Village where runners gather before and after the race.
One runner taking on the 10 mile challenge and new route is Andrew Bickerton, Assistant Manager for Health and Fitness, at Derby Arena.
Andrew said "I am taking part to test myself and my own cardio fitness. I have never trained for a specific race but by doing a proper training block leading up to the date I have confidence in myself to hit the 10 mile target. I am also doing this to improve my motivation as it's been tough for me – as it has been for many people – after all the lockdowns. Having the race date as a goal is making me get up and get out there".
Andrew has been building up his training by undertaking smaller runs initially to build fitness and to create muscle memory for the longer training runs. Each week he has completed 2 or 3 runs of shorter efforts and a longer, slower paced run increasing the mileage. His aim is to hit the distance of 10 miles 10 days before the race with a combined focus on distance and speed. "Motivation and adrenaline on the day will help to gain valuable seconds", he says.
Andrew's progress – in addition to that of his colleague at Derby Arena, Lyndsey McLaughlin – can be tracked on Strava at www.strava.com/athletes/14742695 and www.strava.com/athletes/39394489?oq=lyn respectively, in addition to Derby Arena's Facebook page www.facebook.com/derbyarena.
Entries are available at www.derby10.co.uk and we expect to sell out in advance of the race. Included in the entry fee is a technical finishers' t-shirt and bespoke medal.
Available Car is one of the UK's largest and most successful used car retailers – further information can be found at www.availablecar.com
The event is proud to support www.annabelsangels.co.uk as its official charity again for 2022.