THIS INFORMATION WILL BE UPDATED IN DUE COURSE FOR 2019'S EVENT
Our focus is to deliver a fun, safe and enjoyable event which causes the minimal amount of disruption in the local area.
As the course is mainly on tracks and cycle-ways, there is a minimal amount of disruption to residents and businesses.  Our team leaders and marshals will be operating a vehicle gate or allow traffic through when there are sufficient gaps between the runners but this is closely controlled for the maximum safety of the runners and marshals involved.
A resident and business notice will be delivered to those effected on the course around 2-3 weeks before the event.
We want to hear from you!
We are looking for volunteer race crew members to help with event marshalling all across the route and in the Race Village on race day. For further details click here.
River path access
A temporary river path closure has been authorised to improve the experience and safety for the runners along this section.  This means that the runners will have exclusive use of the river path during the race.
Roads affected on the Route
Pride Park stadium (traffic will be held from turning into the stadium and out of the DW sports car park from 11.00 until 11.10)
Fernhook Avenue – we will be operating a lorry gate to allow traffic through whilst keeping the runners safe.
Bridle Gate Lane off the A6 – vehicles will be allowed through when there is a big gap in the runners.
B5010 towards Elvaston – there will be a coned lane separating the runners and traffic whilst ensuring vehicles can proceed as normal.
Derby 10 Route 
Please click on the image below for a detailed picture of the route.
Click below for a detailed map of the A6 heading onto Elvaston Castle and the Riverpath.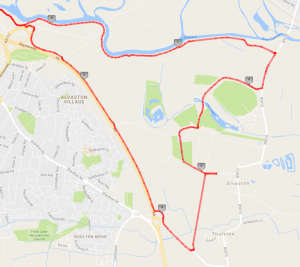 Click below for a detailed map of the start and finish of the race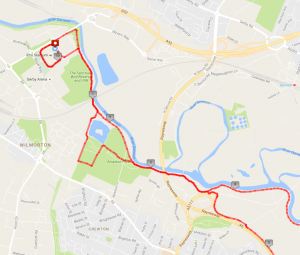 Thank you
In anticipation of Derby 10 Mile event, thank you in advance for your cooperation and support and we look forward to seeing you cheer on the runners on race day!